Pier 88 Yacht Club
OUR GOAL AT PIER 88 LAKE WYLIE IS TO MAKE SURE THAT YOU HAVE A MEMORABLE, SAFE, AND FUN-FILLED DAY ON OUR BEAUTIFUL LAKE. WHETHER YOU RENT A KAYAK OR BOAT RENTAL IN LAKE WYLIE, OR SIMPLY COME IN TO TOP OFF YOUR TANK!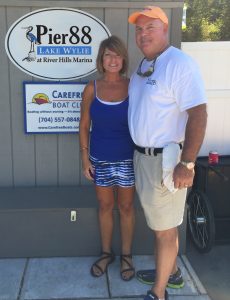 Pier 88 Lake Wylie was established in the fall of 2007 at River Hills Marina, which itself was established in the early '70s. Locally owned and operated by Rikki and Paul Herrmann, the Herrmanns have been river rats since 2010.
You'll find just about everything you need at Pier 88! We're stocked with everything from fishing supplies to boating supplies, not to mention plenty of good food and drink. Want to relax and rent a boat? Come visit us today! In our ship's store and gift shop, we've got you covered.You'll find sunglasses, men's T-shirts, ladies tank tops and designer shirts, hats, caps and much more.
In our galley, you can grab a hot dog, burger, wings, and much more from our extensive menu — and the coldest beer on the lake. Call ahead and we'll have it ready when you arrive.
Check out the free Pier 88 Gift Card on your next visit. It can only be used at Pier 88 and eliminates the need to carry cash or credit card for your food or gas needs while on the lake.